I hope you love the products I've recommended below, just a heads up that as an Amazon associate, I earn from qualifying purchases. This means I may earn commissions on products bought via links on this page.

In the past it wasn't so easy to find Large Executive Office Chairs to cater for the slightly overweight people. Not too mention the really heavy people who had to suffer inferior light weight chairs. But times are changing for the better. Manufacturers have now realized the need to provide higher weight capacity computer chairs.
Breaking or even falling through a standard office chair was once a nightmare for me, unfortunately lived out on many occasions. A standard 200 LB office chair (Which most department stores cater for) is simply not a high enough weight capacity. Besides the fact they cant hold a heavier persons weight, they simply aren't big enough or very uncomfortable to sit in.
These days, I believe ergonomics in the office is becoming the most important asset in any office. When your a bit bigger or taller then the average person, it's very hard to sit correctly with the correct posture and expect to be painless for the grinding 8 hour shift. Unless you have an adequate sized seat for your specific weight and height requirements. Sore backs and bad posture are almost a certainty.
Introducing Large Managers Office Chairs To The Market
While the bigger office chairs aren't exactly the latest hot gossip news to come out of the department stores. They still are not at the forefront of most businesses minds. Nonetheless there are still many varieties of large office chairs for the executive. If your local office store doesn't stock these bigger chairs, your next safest bet is online. Usually the cheaper option too. Online stores are even offering free shipping on various products and next day shipping. Which isn't a bad idea if you live in America.
View The Correct Office Chair For Your Weight Limit
Either click on the Tabs on the Top Of Page or visit the desired weight capacity office chairs below:
Benefits Of A Large Office Chair
Generally speaking a office chair built to hold more weight, may cost you a few extra bucks then a standard chair. The price is justified by the extra strong components needed to have the weight limit desired. At the end of the day, replacing a standard chair with a weigh limit of 200 Lbs every 6 months may end up costing a fortune over a career. So the initial increase in price will benefit us for years to come.
Usually these types of chairs have stronger and sturdier bases with heavy duty cylinders. The lock and tilt feature needs to be of high quality and actually work for you to be able to enjoy these chairs. Some chairs come with heavy duty casters while some may not. However we have reviewed our favorite heavy duty caster wheels if you need a set.
If you experience back pain when working in the office then lumbar support should be on your list of 'must haves' when deciding which chair is right for you. Many chairs have adjustable lumbar support, which is highly recommended so that you can adjust the back support to exactly what your body needs. Additional Back Support for your office chair can also be achieved.
3 Chairs We Recommend You Check Out
Alera Ravino Big and Tall Series High-Back Swivel/Tilt Leather Chair Black

Flash Furniture Hercules Series Capacity Big and Tall Black Mesh Office Chair 400-Pound

Boss Black LeatherPlus Executive Chair Rated To Withstand Up To 250 LBS

You May Also Be Interested In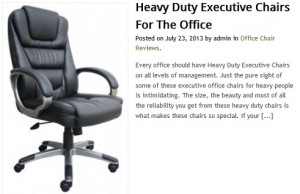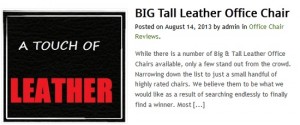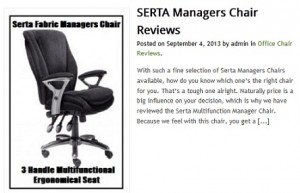 Save