I hope you love the products I've recommended below, just a heads up that as an Amazon associate, I earn from qualifying purchases. This means I may earn commissions on products bought via links on this page.
Reviews Of The Office Star Managers Chairs
When on the hunt for Office Star Executive Chairs, certain standards and requirements should be met.  Free shipping is an optional part of my criteria for buying Office Star office chairs online. High quality reviewed chairs make the buying decision even easier. But to make it even easier for you, today we have presented some of what we believe to be the best rated Executive Office Chairs from Office Star. Including Eco Leather chairs and Big & Tall office chairs.
ECO LEATHER EXECUTIVE CHAIR – Office Star
Firstly what is Eco Leather?. Well just quickly it's a more environmentally and human friendly leather chair. Rather then using harmful chemicals (PCP, Chrome and AZO that are normally used to tan leather, plant extracts such as Mimosa and other natural ingredients are used to tan leather. Little do people realize how bad using chemicals to tan leather really is. The full report can be found here. Eco leather office chairs is a relatively new concept which is going to expand more and more over the years.
Office Star Eco Leather Executive Office Chairs
Office Star WorkSmart Professional Dual Function Ergonomic High Back Eco Leather Chair
Available in Black Or Burgundy
Very easy to assemble. No extra tools needed and takes less then 15 minutes
Versatile  chair with almost infinite adjustments for complete comfort. Tilt function works rather well allowing forwards and backwards tilt locking. Forward tilt locking may look strange, but is very helpful when working over your desk. The back support is still supporting your spine which may reduce stress on your back.
Features up and down height adjustment with gas pistons locking device.
Thick padded arm rests can move up and down, plus in and out allowing your to set them exactly where you want them.This chair is extremely adjustable, so I think it should be easy for most people to find the right set up for their body. Which is extremely important for long sessions.
For comfort, this chair rocks. While it may not be the best looking chair on the market, I'll take a more comfortable chair over a good looking hard chair any day. Back rest and seat have ample padding which is finished in Eco Leather.
Minimize back pain!. This chair is set up to reduce as much stress on the back as possible. I have even heard of people saying that back pain has completely gone when working in this chair after months of use.
Very good price for a great chair.
Office Star High Back Eco Leather Office Chair
Office Star WorkSmart Executive High Back

Eco Leather Chair

, Brown/Black
Alternative budget option to the dual function Office Star Eco Leather chair resulting in less functionality. Padding is not quite as thick either. But still very gentle on the back and rather comfortable I find. For the price, this chair produces some pretty decent results.
Nice brown color (Richer looking then in the images). Also available in Black. But personally I prefer the brown Eco Leather Chair.
Built in lumbar support is a pleasure on my back. Helps posture and reduces body strain you might have experienced in other office chairs. Almost impossible to sit UN-comfortably in our opinion.
Nylon padded loop arms are helpful in reducing shoulder fatigue.
Twin tone stitching compliments the grain free Eco Leather.
The tilt control and pneumatic lift work smoothly.
Sturdy design and has been known to last quite some time with obvious limitations. While weight capacity not noted, I wouldn't recommend this chair for anyone looking for a chair over 300lbs weight capacity.
Office Star Eco Leather Tilt Control Chair
Available In Black, Mocha & Brown
My Top Rated Office Star Big & Tall Chair
MATREX Office Chair Leather  By Office Star
Beautiful black leather seat complimented by the cool breathable mesh backing make this chair one of our favorites. This chair is a popular choice among many busy offices which is always a good sign of reputation and durability.
For the big and tall people out there seeking a managers chair. The seat is extra wide and when measured from top of seat cushion to ground it is 23 Inches off the ground at max height. The seat size is comparable to the Aeron 'C' Size (Large) chair but a more affordable option. Real value for money from Office Star. No weight capacity confirmed from our knowledge, be sure to read other consumers reviews for more insights to weight capacity.
The adjustable lumbar support is very handy, I found especially for people with sore backs. It provides great back support to compliment the overall comfort from this chair. Although in the early days of first usage, the seat seems rather hard until it's worked in.
In love with the 'Gun Metal' finish on the base. Not overly important, but others may also love this finish!
Overall, the chair isn't a full on bells and whistles chair. It's a sturdy chair that provides extreme support and comfort for long days in the office. A great chair for the price when compared to the like of the Aeron range.
Matrex Leather Office Chair By Office Star
More Executive Office Star Chairs
Executive High Back Eco Leather Chair with Locking Tilt ControlCHECK PRICE Amazon.com
Office Star Executive Espresso Eco Leather Chair with Locking Tilt Control CHECK PRICE Amazon.com
Office Star EX5162-4 Leather High-Back Office Chair, BurgundyCHECK PRICE Amazon.com
You May also Be Interested In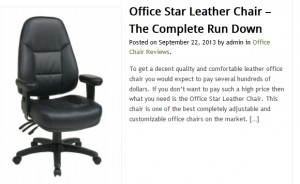 Save