I hope you love the products I've recommended below, just a heads up that as an Amazon associate, I earn from qualifying purchases. This means I may earn commissions on products bought via links on this page.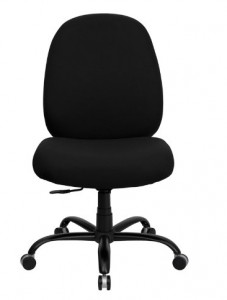 If your anything like me and hate the thought of trying to squeeze into an inadequate sized computer chair, then an Extra Wide Office Chair is an absolute necessity. For me there is nothing worse then contemplating whether to trust another persons office chair in fear of being too big for it, or even breaking the chair. That is a horrible feeling I hope to never endure again.
So now I always make sure I'm equipped with a larger sized office chair at all times. Ok, so maybe not when on a job interview, but whenever it's humanly possible I'll make sure I've tried and tested the chair previously before I even think about sitting down to get into a hard days work at the office. (Occasionally our chairs get mixed around by cleaning staff, and unless you own the chair, you simply get what your given)
One could assume a office chair designed for the heavier person would naturally cater for the wider individual. But this is not always true. Many chairs vary in width, dimension, height etc. Choosing the appropriate width for your behind is crucial to your comfort level. So make sure you check the chairs dimensions before purchasing to later realize that yes..It can handle my weight capacity but boy is it a tight fit.
Rather Popular Extra Wide Office Chair
Boss B991 For The Big & Tall
The biggest seller of wide office chairs for larger guys and gals from my experience is easily the Boss B991. It's a really nice chair which will suit many peoples needs. Plus it has a good 350 pound weight capacity. See the short video below for a brief review of the B991 office chair. Or you can check out the B991 and other 350 Lb capacity office chairs here.

Boss B991 Extra Wide Office Chair
Things To Consider When Buying A Wider Office Chair
There's a few important factors for you to consider when looking into buying a bigger work chair.
Obviously budget comes into play. But like many things in life, the things you really need tend to cost a little more. This is no different with heavy office chairs either. Because their mechanism is designed to hold much higher weight limits then those of the standard variety they will sting you more in cash. But take reassurance from this because you KNOW your weight has been taking care of and all the parts are made stronger and more durable. Leaving you with an office chair with hopefully a much longer lifespan. So I think of it as actually a saving in the long run.
Weight Capacity is important because the standard office chair can ONLY HOLD 200 LBS!. In today's society, a 200 LB computer chair is simply not enough. So beware of all the different weight capacity office chairs. Also if your partner or children often sit on your lap while your at your computer, then you should cater for the combined weight also. In this case a

500 LB Office Chair

will put you on the right path to a stable foundation.
Big And Tall Office Chairs are fantastic. But like the name suggests they are aimed at the above average tall people. So if your short, think again about buying a Big And Tall wide seat. But if your are taller then the average Joe, then you simply cant pass up on a Big and Tall Chair. The majority of standard chairs you can't adjust the height adequately to cater for taller people. Having a chair that doesn't suit your long legs can create extra pressure on your legs and may limit blood circulation.
Heavy Duty Caster wheels are the icing on the cake. Especially if your burning over carpet, or should I say wanting too. Equip your extra wide office chair with a set of load bearing, large, durable heavy duty caster wheels and you'll never look back, well hopefully only to see your co workers stuck on the carpet.
Where To Buy An Expansive Office Chair
The easiest way to find an over sized chair for your home or office these days is by purchasing online. You can obtain all the details you need to know about width, weight capacity, functions, Lumbar support etc. Although you can't actually get a first hand feel of the chair, you can get a pretty good idea for comfort and durability from consumer reviews.
By visiting this link to Wide Office Chairs you will be directed to Amazon.com sub page for extra large and wide chairs for the home and office. Check out the reviews and pay more attention to the customer questions as to how wide the seat is, how much weight can the office chair handle safely etc. One can find many helpful mini reviews their alone.
Save