I hope you love the products I've recommended below, just a heads up that as an Amazon associate, I earn from qualifying purchases. This means I may earn commissions on products bought via links on this page.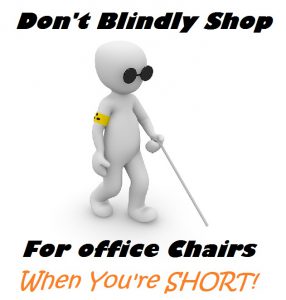 Being a short person and finding adequate seating can at times be frustrating beyond belief. It's no different for office chairs either, if not harder to find. So what is the best office chairs for short people and what's considered short anyways?.
How does one establish themselves as 'short' in the first place?. Well according to halls.md the average height for a male in the Us is 5'10" and for a Female American the average height is 5'4″ according to Wiki. So going on these figures, a short person could be anything under the average right?. Well we all know that when we age, we also get shorter in time. So determining what a short persons actual measurements can be very difficult.
For Short & Heavy People
If you're not only short but a bit on the larger side there's a whole new element to consider. That is weight capacity, seat size and distance between the arms. This guide here demonstrates the requirements and has some of the best options to choose form.
When buying a office chair as a short person, its important to look at a few important points:
The height of the top of the seat to the floor level. Do remember that when you sit on the cushioned seat you may lower the height level by an inch or so. But in general its a good idea to consider the minimum height level so you can determine whether or not your feet will dangle in the air instead of being firmly placed on the ground.
How high your desk is?. It may be all well and good if you can have your feet placed firmly on the floor, but what if you aren't high enough to rest your arms on the desk to type, write, draw etc. If this is the case a lowered desk may be a good fit. Alternatively a under desk foot stool on a fairly average height office chair will do the trick.
The adjustable functions of the arm rests (If applicable) can be an issue for short people. The arm rests on a standard office chair may be too high and therefor become useless and more of a hassle. Having a chair with adjustable arms can mean the difference between an ergonomic chair and a terrible experience.
Measure the distance from your backside to the top of your shoulders. This will help to find a suitable chair with an appropriate sized back rest and head rest if applicable. Nothing worse then having your head rest against the back rest designed to support the shoulders.
 Top 5 Office Chairs For Short People 2019
The Best Managers Chair For A Short Person

5'1″ And Need A Office Chair?


Height From Floor: Seat is about 17.5″ from the floor fully down
The Office Star Mesh Back and Seat Manager's Chair is a stylish office chair that has a one-touch pneumatic option for height adjustment, a 2-1 locking tilt control that offers adjustable tension. What I feel is important for a shorter person is having arms that can flip up and down. Naturally well padded as well. When a short person sits in a regular or chair designed for the taller folks, the arm height is not always that ergonomic. So having the ability to just flip the arms out of the way eliminates any issues.But for those interested in the height from floor to arm rest it's about 24 inches to the top of the arm rest.
I find the Office Star is a comfortable chair that is ideal for use in warm environments. This is because the mesh is very breathable and allows greater airflow to the body. The variety of adjustment options on this chair not only make it a suitable office chair for a short person, but also great value for money in my opinion. This is because some of the features the Office Star has I have seen on more expensive high end chairs.
This office chair appears to be designed to promote good posture, and the lean option is set so that it doesn't go too far back – so that it's comfortable, but not bad for your posture. It's a great imitation of some of the more luxurious brands, but it costs a fraction of the price and it offers the majority of the ergonomics and comfort. Plus the flexibility needed by short people. One thing I have noticed tho is that the mesh on the back can sometimes come loose. But this is easy enough to fix if you keep an eye on it and just use a little glue, or some fresh staples, to ensure that it stays in place long term. Overall, I find the Office Star chair a great solution for the not so tall folks, great value.
Office Star Short Persons Desk Chair
Got Short Legs, Small Build & Need A Desk Chair?
The Alera Etros Office Chair

Approximate Seat height from floor: 17.5" – 21.5"H
The Alera Etros Petite is a particularly interesting chair in that it can be adjusted to suit some people potentially as short as 4"10'. As everyone's body shape and legs are different sizes, the suitable user height may vary. I found it's comfortable for people who weigh as little as 120lbs, but it can be used by bigger people too. Which could make it a good option for officers, where you have no idea who would need to use it – or as a chair for a young teen, who needs a good gaming/work chair, but will be doing a lot of growing over the next few years.
The Alera Etros Petite mid-back multi function mesh chair is a lightweight and comfortable mesh chair that is designed with smaller people in mind, but that can be adjusted to suit normal to larger people as well. It is an incredibly adjustable chair – you can raise the seat, raise the back, adjust the seat slide, and adjust the tilt as well. The seat can be adjusted so that it slides back under the back, giving a possible depth that may go as low as 14", making it a suitable option for very small people – and then it can be adjusted to suit taller people but not the overly tall folks as the back rest isn't high enough to support the shoulders. The arms are adjustable which I love, and the seat is easy to move too.
The Alera Etros Office Chair
Executive Office Chair For Shorter People

My 5 foot 2″ Co-workers Best Recommendation

Estimated Height: 17′ min, 21.75″

The Serta Executive Office Chair is a stylish office chair with a pillowed headrest, adjustable height but no tilt sensitivity, and dual-wheel casters. It can be adjusted to a height of roughly 21.75", and the back of the chair is about 24 inches tall – this means that it's a perfect chair for relatively petite people, but the headrest is a little too low for taller people. However, my 5'2″ co-worker found the head rest to be perfectly suited. The 8 inch padded headrest snugs the back of the head amazingly.
The chair is very comfortable, and the headrest offers good support, but it is designed for average-height/smaller people. The lack of tilt is something that may irritate some people, but there are others who actually prefer that. Because it means that they can lean back onto the headrest quite comfortably without fear of falling backwards.
Heavier people, however, I feel this chair may be not up to the Big Mans heavy duty rating, with only a 18 inch width of the seat– so that's something to be aware of if you are a bigger person. It's a comfortable chair for sitting in, and the gas lift is relatively nice, but don't expect to rock or recline like you would with some higher-end manager's chairs.
Serta Executive Office Chair
Faux Leather Short Persons Manager's Chair

My Suggested Users Height: 5'3″ +

Seat Height From Floor Roughly: 16 to 19 inches.
The WorkSmart Faux Leather Managers Chair is a luxurious office chair that I think would be suitable for people 5 foot 3/5'4″ upwards. Anything under 5 feet and you may feel as tho it's just a tad too big. The chair has padded armrests and ample padding over the rest of the surface as well. It looks like a high quality office chair, and the height and tilt are adjustable.
The weight limit on the chair is 250lbs, but the padding is soft and those who weigh over 200lbs may find that it is too soft for them. The chair is quite adjustable, though, and should fit under many 27inch desks. It is easy to put the chair together, and it is comfortable both for taller people, and those who need a lower chair as well. If there are any downsides, it would be that the faux leather is quite thin, so while it's a comfortable chair and easy to adjust, it's one that you will need to take good care of, and not one that you would want to keep in a house with cats or dogs that might claw at the fabric – because it probably will rip.
Short With Long Legs? This Office Chair May Be The One!
The Basyxs Task Chair By Hon

Seat Height 17 – 20.5 Inches – Officedepot
The Basyx Office chair by Hon is a simple, black office chair with comfortable sandwich mesh upholstery and an easy to use pneumatic seat adjustment. The chair rotates and tilts, and the tilt sensor is easy to adjust. Making the chair comfortable for most people, regardless of their height within reason. The chair is very comfortable for the average sized person, but the 17" depth may be a concern for short people.
However, shorter people with longer legs may find this chair beneficial in another way. With the extra height from the lift combined with longer legs it would make an ideal sitting position compared to the above chairs for shorter guys and gals. Another alternative is to use this chair as a short person combined with a foot stool. So this way you wont feel too short for the desk.
The only downside is that the while the chair has height and tilt difficulty adjustments, the armrests are completely fixed, so if they aren't at the perfect height for you, then you may find the chair irritating to sit in for prolonged periods of time. Also, the polyurethane covering may feel a little uncomfortable if you sit on it while wearing shorts/a short skirt; a natural leather covering may be more comfortable and a better choice for skin on skin contact.
The Basyxs Task Chair By Hon
Save