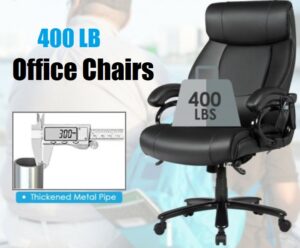 400 Lbs Office Chairs (180kg) are not only a requirement for overweight or heavy people but also exceptionally handy for your normal size computer users.
Especially on such occasions as when your kids are all over you while you're trying to work in your office. Or even when the lovely wife decides she wants to sit on your lap and have a little bit of a chat or snuggle. Having this extra person's body weight can really cause stress on the infrastructure of the chair.
Many people forget that the standard office chair can only handle about 200 – 250 Lbs and are therefore SHOCKED when all of a sudden the home computer chair breaks beneath you.
The last thing a big man needs is to be falling on the ground due to inferior materials used to construct the office chair. Having a 400-pound office chair at home and office makes complete sense to me whether your overweight or not!.
In our office, the computer chairs that can handle up to 400 Lbs are the second most common chair behind the Big Mans 500 LB desk chair. Not because everyone is heavy and large, but because of the pure strength, durability, and life span these office chairs for heavy people may offer. Below you can see a few of our favorite 400 Lbs weight capacity Office Chairs.
The Best 400 Pound Capacity Big & Tall Executive Office Chair
When trying to label just one chair as "the best", it's not easy. There are a lot of boxes to tick and a lot of different needs to fulfill. This executive option by PlushCore™ ticks a lot of my boxes and at the same time fulfills the needs of other heavy people also.
There a more and more office chairs suited for heavy people that are hitting the market year after year, which is a really good thing for us. But one thing many manufacturers forget is that people that weigh more than 300 pounds require a lot more padding.
Ultra Thick Padded Seat
Without the right padding, our backsides simply hit the wooden base of the seat and that's no fun for anyone. Well, PlushCore addresses this issue with its mammoth 7-inch thick padded seat.
But it's not just the thickness of the seat that is impressive, it's what's on the inside that counts. The interior of this seat is spring-loaded and finished with multiple layers of high-density foam.
What this does is creates a soft yet supportive foundation for us heavier folks. With the high-density foam it won't flatten out like soft plush cushioning does under a 350lb person. When you combine this with a short spring-loaded seat, it's a dream to sit on.
Oversized Is An Understatement
The thing that annoys me the most when shopping for high weight capacity products is that sure, it may be rated to hold 400 pounds, but in reality, the darn thing is way to small to seat a big person.
But not the PlushCore, check out these dimensions below.
Huge Seat: 23″ Wide with a 22.5″ depth
Tall Backrest: 29″ tall with a minimum width of 20.5″ up near the shoulders.
Tall Seat Height: 20″ minimum to a maximum of 23″ seat height.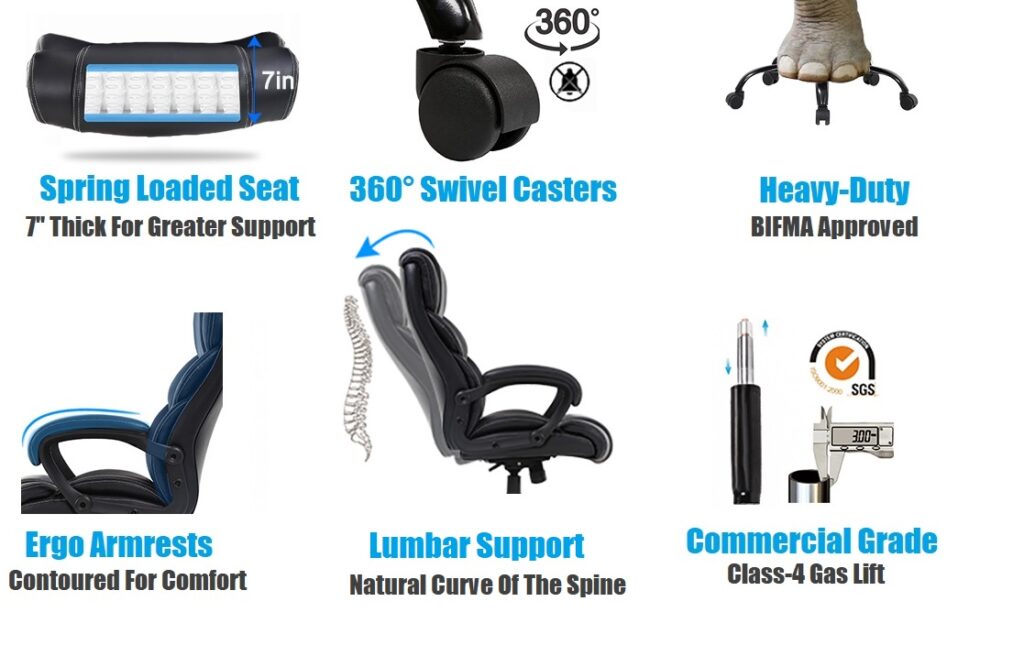 It's Got All The Bells And Whistles
I'm not normally one to desire a product with all the bells and whistles because normally I'm lucky if I can find something that actually fits me.
At the same time, I won't say no to a nice vibrational massage while sitting at my computer. Yes, that's right. The PlushCore big & Tall office chair comes with a built-in massaging device.
The massager consists of 6 heads which feature 2 intensity levels. There are 5 types of massages to choose from, but I like to leave it on 'Auto' so I don't have to think too much. These massage nodes are in both the seat and the backrest.
The chair also has tilt and lock functionality while also being able to gently rock back and forth. The total recline of the chair is 120 degrees. Which is not too bad considering the chair can hold up to 400 pounds.
All in all, I find the PlushCore office chair to be one of the best value on the market. Considering all the features it has including the extra-wide seat and the 400 LB capacity, I think any big and tall person would be mad not to consider it for their office space.
PlushCore™ 400 LB Big & Tall Office Chair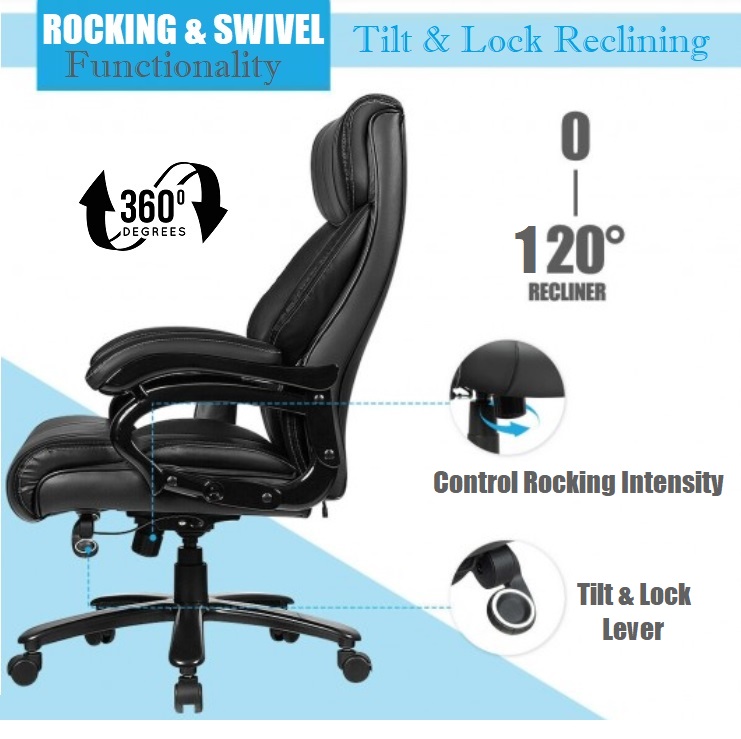 Mesh Office Chair With 400 Pound Weight Capacity
Office Star:

Space Air Grid Executive Big and Tall Chair

As a big man myself, the one thing I hate the most about extended sessions in an office chair is how my body overheats and I become a river of sweat. Even with the air con on!. Which brings me to one of my all-time favorite office chairs. The 400-pound capacity Mesh chair by Office Star.
I find the backing is amazing at allowing airflow to circulate around the body and reducing body temperature. The thick padded seat is also a mesh material that allows less airflow, but still better than none.
The other highlights that make this chair a great buy is its ability to be customized to suit the user's individual needs. Especially the arms, having the ability to alter the position of the armrest is an amazing feature.
But with this chair, you can adjust the height to your needs and even adjust the width of the arms. Which is essential for a bigger guy.
The lumbar support is spot on for me and can also be adjusted to suit your individual preferences. If I had my time again, I'd be buying this chair time and time again instead of wasting thousands on complete inferior and cheap office chairs.
Office Star Office Chair 400 Lbs
Perfect For The Big And Tall
Flash Furniture WL-715MG-BK-GG Hercules Series 400-Pound Big/Tall Black Fabric Office Chair with Extra Wide Seat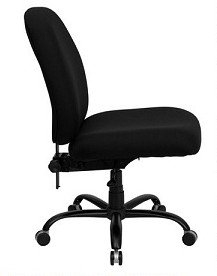 This Flash Furniture release is a great choice for the Big And Tall persons looking for an office chair to hold a maximum weight of 400 Lbs.
However, if you're under 5'5 I wouldn't recommend this chair. Because even on the lowest setting your feet might not quite reach the ground. But you can check out these office chairs for short people here and see if one of them is better suited to your height.
But is a good choice for the taller and bigger folks out there. Especially if you prefer a desk chair without arms as the seat on this chair has a width of 22.5-inches. So with no arms in the way, a very larger person could comfortably sit on this chari and not feel restricted.
Armrests Are Optional
This chair is surprisingly well padded which brings the comfort level up a notch. The armrests are optional also, so totally up to you if you like armrests. The lumbar support works really well and helps reduce the not so nice aching back and tension which often occurs during long days in the office.
The best thing about this chair is its no wobble and extremely stable foundation. Even when you drop your pen or mouse and reach over while still sitting down to pick up the item. Normally being a larger guy I would never attempt this in a substandard chair in fear of breaking or tipping the chair and looking like a complete fool. But I feel 100% safe in this chair.
Good Value For a Heavy Duty Fabric Chair
While a fabric office chair is somewhat of a desired taste, there's no denying that it is a longer lasting material compared to PU Leather so commonly found on furniture these days. Sure you have to put in a bit of elbow grease to clean stains out of the fabric, but at least you know it is quite durable.
The price for this heavy-duty office chair I found to be quite reasonable considering the weight limit it can handle. The only thing I find that it's missing is the more personal tension adjustment levers and the seat tilt back option. But for the price, I can't complain at all when comparing to some other high-end heavy load computer chairs.
Hurcules Fabric 400 Lb Capacity
24 Hour Big And Tall Office Chair

I find that big/overweight people who work full time in the office tend to have a soft spot for this chair. As the title suggests, this computer chair is a 24-hour chair.
Which means it is built to be used 24 hours a day 7 days a week. The heavy-duty build of this chair allows up to 400 LBS users to be able to use for 24/7. Which is perfect for a business that works around the clock such as Hospitals, Fire Stations, Betting agencies-  your home office, etc.
The foam padding is soft and surprisingly more comfortable than I expected from a heavy-duty full-time office chair.
I especially like the 12 personalization adjustment levers that allow you to set up the chair ergonomically exactly how YOU like it. This amount of functionality is ideal for small businesses where people of varying body sizes have to alternate using the same office chair. Just quickly here are a few of the common levers on this seat:
Height – Up & down
Back support lever allows you to make the back fit tightly against your back or create a suitable spacing to how you like it
A lever to lean back in your seat
A lever to prevent you from falling forward when in rocking mode
Lever underneath the seat to adjust the seat height to suit short or tall people.
This chair is certified to a capacity of 400 Lb office chair and meets or exceeds ANSI/BIFMA safety standards.
Overall I think this chair is worth spending the extra few bucks on. The comfort and leverage are reason alone, but more so the fact this chair may improve your posture and reduce sore backs, legs, etc. To me, this makes this chair a must-have for busy offices.
Think of this chair as the all-rounder which is also available in 3 colors. While the price tag may seem intimidating at first, just remember this chair can take a beating. That is what it was designed for and if you operate around the clock, it's an investment well made.
OFM 24 Hour Big and Tall Ergonomic Task Chair
What Size Office Chair Does A Big Man Really Need?
People are often confused by the shear number of options available to them when it comes to buying a product like a desk chair. The truth of the matter is, there's no one perfect chair for every heavy person out there.
We all have very different shapes and sizes to our body parts. Not to mention heavy people can weigh anywhere from 250 pounds to over 500 pounds. So while starting with the weight capacity of the office chair is a good starting point, you also need to factor in your personal needs also.
Here is a quick run down of what you need to consider before buying the first option you see.
Price Is Important
I've been around the block a few times when it comes to buying office chairs. I've always been a 'big boy' but I've also been poor at the same time. So I can complytly undestand why there are some office chairs for $100 and others that cost $300 or more.
You can only afford what you can afford, but take it from me, if you have the money to spend on a higher quality chair, you won't regret it.
Cheaper $100 chairs have their place, but the chances of them lasting longer than a year is very minimal. Espceially if it is rated to hold 400 pounds.
A big and tall chair that costs $200-$300 is going to be twice as good as a cheaper option and will likely last you a lot longer. But if all you can afford right now is a $100 chair, so be it. Just keep putting away that spare change so in 6 months' time you can buy a higher quality heavy-duty office chair.
Quality Of Frame
the weight capacity is typically derived from the base of the office chair along with the thickness of the struts tubing. Both of these need to be heavy-duty rated or they will buckle under heavier weights.
If the manufacturer or product description lists the thickness of their steel used in the construction of the chair, this is typically a good sign. Becasue they want you to rest assured that they didn't cut corners to bring you this 400 lb chair.
From my experience, you want a chair with a steel tubing that has been reinforced toa  thickness of 3mm. Any less and you are risking it bending or warping out of shape under heavier loads.
Finally, Seat Thickness & Density
a lot of newcomers will go after the softest most plush feeling chair they sit on. They go from box store to box store and find the softest chair, hand over their hard earned money and take it home glowing with happiness.
The problem with this when you weigh more than 300 pounds is that this glowing beam of happiness will be short lived. Imagine sitting on a cloud, but actually being able to fall through the cloud. This is the best way I could describe it.
The plush foam won't last long under heavy weights. It will flatten out like a pancake, leaving you with a seat that is as hard as a rock to sit on. Sound inviting?
I did't think so. Instead, heavier people need to have a higher density foam. A foam seat that is strong enough to stand upright under our body weight without flattening out. While it may feel harder on the touch compared to the cloud like plush seat, it will be there for you in the long run, unlike the squashed cloud like pancake.
Save