I hope you love the products I've recommended below, just a heads up that as an Amazon associate, I earn from qualifying purchases. This means I may earn commissions on products bought via links on this page.

With such a fine selection of Serta Managers Chairs available, how do you know which one's the right chair for you. That's a tough one alright. Naturally price is a big influence on your decision, which is why we have reviewed the Serta Multi-function Manager Chair. Because we feel with this chair, you get a lot of value for your dollar.
Another fairly common requirement among office workers is weight capacity. How much weight can a Serta office chair hold for example. This differs from chair to chair. With this particular managers chair by Serta, the weight capacity is 225 Lbs. Which is only 25 Lbs extra load bearing then the typical office chair. So if you require a higher weight capacity visit Serta Big & Tall Office Chairs Here!.
Quick Links to Info on this Page:
Serenity By Serta - 400 Lb Capacity
Serta Fabric Multifunction Managers Chair (4177)
In this review we will cover some of the features and what the majority of consumers say overall of this computer chair and do we think it really is value for money. Read on to view the review.
Price

The multifunction chair by Serta may set you back a couple hundred bucks. Which is not bad for a multifunctional chair. When compared to a similar priced fabric office chair like the Z-Line Executive Chair, you can see why we think this Serta is good value. Not that I'm saying the Z-line is terrible, just if I had to choose between the two..
Features
The chair is equipped with 3 levers that adjust for you to customize your seating preference. Very ergonomic settings are easy to achieve with such functionality. Tilt and lock feature is fully adjustable leaning far forward and reclining back for a nice relaxing time(Perhaps a nap?).  Adjustable arms round out the complete customization which is a very handy feature indeed. Other reviews state that the arms can be a tad wobbly. The solution: Put a piece of thin plastic or even paper in the joint. Presto! No more wobble..That's if those details even annoy you that is.
The base and in general the materials are fairly heavy duty. Not much goes wrong with this chair (except for one key feature found below) and the chair base meets the BIFMA standards.
Comfort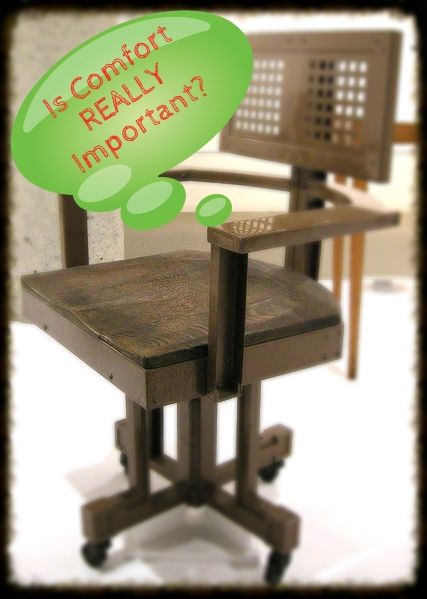 Ok..So here's where you may or may not loose interest in this serta managers chair. While this chair is probably an 8.5 for comfort in general, the one thing you hear over and over again…. The seat's padding becomes flatter after a short while. Some people it happens in weeks, months or never. Because this chair is only rated to hold 225LBs, the padding is only designed for roughly 150-225 lbs. So don't attempt this chair if your over the weight capacity.
Anyways so for a lot of people, the padding on the seat becomes flat. But this doe's not necessarily mean it's a 'DUD'. While it is flatter, it's not like sitting on a timber plank..It's still comfortable to an extent, but for people who over indulge in comfort this will dissatisfy. Alternatively you could always buy an additional seat cushion with the extra money saved when buying a quality chair at this price. Just a suggestion.
Overall

Taking into consideration the 2 negative aspects, I still find this Serta executive office chair offers great value. The wobble in the arms for one doesn't affect me and most people simply stop the wobble or forget about it after a few days. The flat seat problem is certainly a concern for those looking to float on a cloud while working, while there are alternatives like cushion, some people won't accept this. But for me I don't mind a firmer seat rather then too soft. When the chairs just too damn comfortable…who really wants to work, when sleep is also an option!
What win's it for me is the durability and the ability to pretty much customize the settings however you like. If a chair isn't set to your bodies ergonomic requirements, you may suffer from back and body pain. I don't want a chair that encourages my body to hurt more. So that's why this Serta manager chair is a winner to me. Because it offers the opportunity to sit and work ergonomically and safer for longer.
Save