I hope you love the products I've recommended below, just a heads up that as an Amazon associate, I earn from qualifying purchases. This means I may earn commissions on products bought via links on this page.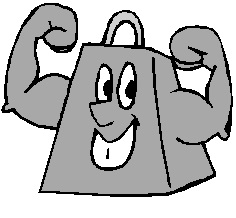 So maybe the idea of an UN-breakable office chair may be a little far fetched. However Extra Strong Office Chairs need to be of the highest standard to support the extra heavy weight capacities and long hours in the office. Their are certain requirements needed to classify a computer chair as strong. To start with, a extra strong base is the first thing I generally look for. Followed by a high weight loading frame. The caster wheels should also have a heavy duty rating. Not all chairs will have all these features, but you can buy them separate to strengthen your existing office chair.
The hand selected chairs on this page are a few of what we believe are the best and very sturdy office chairs. All pass our high strength test and are of various weight capacity ratings. If none of these chairs fit your weight category, be sure to choose your office chair by weight limit.
Quick Links to Info on this Page:
Very Strong

450LB

Basyx By HON Office Chair

Often referred to as 'The Tank'  and after taking a quick look at this Basyx chair by HON, its easy to see why. The 450 pound rated office chair looks very sturdy and built extra strong. Unlike some other heavy rated chairs, this Basyx Tank maintains a relatively wobble free experience. Which I believe speaks wonders for the strong support system.
Besides the extra confidence one can gain from the strength and durability of this chair, the full mesh padded material is designed to allow air flow. Which is meant to circulate air and keep the body cooler then regular chairs. Reducing, sweating, discomfort and rashes one can often get.
This chair by HON is definitely one of the best rated 450 pound rated computer chairs we have seen, and unlike some other large chairs, it WON'T cost you a great deal. In fact you may be surprised at how affordable this chair actually is and may actually be tempted to pick up 2.
Basyx By Hon 450 Lbs Capacity
Need Heavy Duty 400 Pound Office Chairs?
[raw]
Flash Furniture Hercules Series Capacity Big and Tall 400-Pound
HERCULES Series 400 lb. Capacity Big & Tall Leather Office Chair 
Comfort Products Commodore II Executive Big and Tall Chair – Black
[/raw]
The Safco VUE

500LB

Office Chair
A nice simple sleek design backed by a reinforced frame and seat for extra strength. The wider then normal seat has a nice appeal to it and is padded rather sufficiently. After years of use this 500 LB still takes some heavy duty usage and always performs up to task. The frame is made from very strong metal and the chair comes in two styles, this one on display is the mesh and it is also available in a black vinyl version.
It's a very solid build and the cool thing is, you can also buy additional arms for the chair if you decide you need arms later in life. However, when you weigh upwards of 350 lbs, arms can become more of a hassle than they are worth. Many arms simply get in the way and are not able to take off very easily.
What I really love about this model, is that it incorporates mesh fabric into the design. Yea having fancy levers and being able to tilt back is super awesome, but being a big Man, comfort is everything. Having mesh material as the backing of the computer chair allows air to flow more freely between the chair and your body. So cooling you down and creating a more comfortable working environment. Mesh office chairs are my personal favorite for this reason alone.
*See Additional 500 Lbs Office Chairs
500 Lb Armless Office Chair - Safco
Save