I hope you love the products I've recommended below, just a heads up that as an Amazon associate, I earn from qualifying purchases. This means I may earn commissions on products bought via links on this page.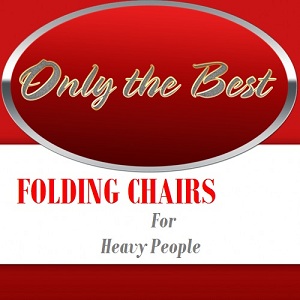 As we welcome the new year in, new events arise for the coming year. New celebrations, parties, meetings, conferences, family outings etc. Whether it's a family Birthday to celebrate or a weekly game of poker around at a mates place. It's almost a certainty someone will be in need of a folding chair for a heavy person at some stage during the year.
Folding chairs are an excellent addition to many households, even if no one is over weight. These top 3 reviews for large size folding chairs will come in handy in more ways that you may think. They are attractive, comfortable, high weight capacity and most of all…they fold away neatly.
Need A Heavy Weight Capacity Folding Chair?
While these hand picked chairs are all heavy duty rated to suit us larger people, some people may be searching for a specific weight capacity chair. If nothing on this page caters to your needs you can view more plus sized folding chairs at the link below.
Our Hand Selected Top 3 Folding Chairs For Big & Tall
Our Number 1 Folding Chair

The FLEX ONE – Made In The USA
Now the Flex One folding chair claims to hold up to a mammoth 1000 Lbs, this I wouldn't put too much faith in. Even though it comes with warranty, I believe the mesh would eventually give way with such extreme weight imposed on it.  Best Folding Chairs For Heavy People
However I believe this chair is seriously the most comfortable folding chair on the market. I wouldn't hesitate recommending this chair to anyone big or small up to a decent 450 lbs.
Unlike the 'normal' folding chairs, with this Flex One chair you may find yourself  sitting for extended periods of time in comfort. Who would have thought right…From a folding chair made out of durable plastic meshing that molds in a way to support your body shape while keeping sufficient air flow creating less sweat and discomfort on traditional vinyl or hard plastic chairs.
The big seller that urged us into this chair taking the our 'best' title was simply how many incredible reviews were left after purchasing this chair. It almost reads too good to be true. But the reviews are dead on, and it's easy to see why this chair is our top rated folding chair among us overweight people.
Flex One - 1000 Lbs Capacity Folding Chair
Runner Up – 300 LB Folding Chair

Classing up the typical folding chair, these premium fabric chairs by National Public Seating are sure to leave an impression with your guests. The professional appeal and comfortable padded fabric seat is what makes them so popular among the community.
The triple braced frame looks pure quality. The support given from the sturdy and durable frame is up to 480 lbs. While the actually drop rate is at a decent 300 lbs.
These heavy duty NPS chairs are not your average folding chairs. Don't just imagine a plain ole steel frame chair with a 2 dollar cushion stapled onto it. These are real high quality, premium in fact. Perfect for us bigger folks who need higher quality materials to withstand the extra weight. I assure you, I won't hesitate to recommend a set of these tidy chairs at my next family gathering. They should be blown away by the pure comfort and quality. Available in some cool colors too, but I just prefer the beige color.
Premium 480 Lbs Capacity Fabric Folding Chair
Rounding Out Our Top 3 Folding Chairs For Big People

If you have a large family or many staff in the office, this set of 4 folding chairs by Alera may get people seated in no time. Alera have made a reputable name in the office chairs department for heavy people in our solid research, now they also spread there name to make this fine folding chair for heavy people.
Rated to hold 350 Lbs, this folding chair is quite an all rounder. It's comfortable and stylish enough to use on a regular basis, or compact enough to bring out on special occasions/meetings.
The tan vinyl material seats are the perfect color for blending into most surroundings which creates a natural welcoming feeling as guests arrive. What guests won't know is how affordable these folding chairs are once they get to discover the comfort level. It's easy to understand why people may expect to pay double for these Alera folding chairs. But that's the beauty of buying these type of chairs in bulk or 4 packs. The price per chair becomes rather affordable for almost any office, family, church, etc.
If neither of the above two folding chairs cater to your needs, one should seriously consider these chairs by Alera. I love Alera and have complete faith in their company and business. Quality is what we are after after all and I think Alera deliver in the form of 4 comfortable and inexpensive folding chairs.
Alera Heavy Duty Padded Folding Chair
Save