I hope you love the products I've recommended below, just a heads up that as an Amazon associate, I earn from qualifying purchases. This means I may earn commissions on products bought via links on this page.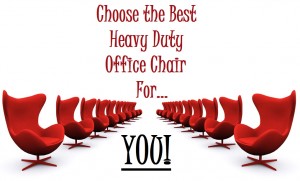 When buying any Big Man's Office Chairs Up To 400 Lbs in weight capacity it's important to realize that cheaper is not always better. As a larger big Man myself who spends countless hours behind the office desk, I know just how important a sturdy and reliable office chair is. Not only for productivity but also for safety.
I find cheap or inferior office chairs will not be able to cope with up to 400 pounds of heavy weight 8 plus hours a day. Before long they could give way and possibly even collapse beneath the user. Trust me, this is not fun nor is the constant reminders from fellow co-workers.
While I find it's hard not be tempted by the lowest price, I have to remind myself that I'm investing in my safety and the longevity of the office chair. Which in the long run may be cheaper then buying multiple breakable chairs. Not too mention far less embarrassing too. In case you didn't know, the average office chair may hold up to 200 pounds, which is far to little for us big Guys.
Fortunately we aren't limited to these standard office chairs anymore. There are a few really good office chairs which are rated to hold up to 400 lbs. If you contact your local office department store, make sure to let the salesperson know how heavy you are and that you will need an office chair that can withstand up to 400 pounds. Or some may try to sell you on a lower weight capacity chair in hope for return business if you know what I mean. I've witness this first hand, until I stated I was well over the rating.
The other alternative is to buy a 400 pound capacity office chair online. While you can't 'test' the chair out, you can be informed by numerous big person's reviews giving you the stamp of approval or the failed message. To help you find a chair for you, we have researched various models and even tested some heavy duty office chairs. The chair I felt best for me I just couldn't help but buy, which I'm sitting in right now.
[rectanglebox id=7]
Recommended Mesh Office Chair With 400 Lbs Rating
One of my all time favorite office chairs is by Office Star. It feels like this chair was built with the big Man in mind. Rated to hold up to 400 pounds and is very practical for the bigger user. I have always preferred mesh backings on my office chairs, but not all mesh chairs are built equal. Many are unbearable to sit in to be frank. But in my opinion Office Star has delivered pure mesh perfection here.
I find the mesh backing isn't hard and uncomfortable to start with. The design allows flowing and cooling air flow to circulate around the body. Which I find is very rewarding to such an oversized guy. Nothing worse the feeling hot and sticky while trying to work behind the computer. Especially in summer when the air conditioning cannot handle the heat wave that's decided to hit. The unique air grid mesh comes to play and helps in reducing the embarrassing sweat patches.
The 22 inch wide x 21 inch deep padded mesh seat is a good size for many bigger people (Note how I said many, not all). Plenty of room for larger backsides between the adjustable arms. The chair can also tilt back and lock into position, even for up to 400 lbs which is quite rare I found.
The adjustable lumbar support is another feature I must have, well if you ever experience lower back pain like myself. It's amazing what a little adjustment can do for the back discomfort. Not something anyone should overlook I believe.
Overall this is one great all round executive big Man's office chair. The dual heavy duty casters perform beautifully over multiple terrines, has a 400 lb capacity and is one heck of a comfortable chair to sit in all day long. Like I mentioned earlier, one of my all time favorites.
The Air Grid 400 Lb Capacity Office Chair
Big Man's Executive Office Chair
Serta's New Multi Layer 400 Lb Capacity Office Chair

Serta have taken their formula for success with their multi layer mattresses and implemented the technology into it's latest big Man's executive office chair. I must say it looks stunning, oh and I've found it's getting rave reviews already.
A big draw card for larger people is a wide and comfortable seat. Serta have listened and created this 6 layer super comfortable Serenity Edition office chair. It's really quite ingenious the design of the layered seat, which includes a memory foam layer, which I just love. However if you prefer a firmer seat, you may not like this chair so much.
While the Lumbar support isn't adjustable, there is plenty of lower back support in the backing. The head rest is perfectly situated for the average in height to tall person. This Serenity 400 Lb Capacity Executive Office Chair is even approved by the American Chiropractic Association.
While this office chair is a new release for 2015, I have a hunch that it will be here to stay for a very long time. The unique design, multi layer padding, extra wide seat and 400 pound weight capacity makes this one heck of a good office chair for heavy people. The price tag is well priced in my opinion and may even lower in the years to come. For a few bucks less and if you're only needing a 350 Lb capacity chair, I suggest you check out the Boss B991 as a good alternative.
Serenity By Serta - 400 Lb Capacity
Fabric 400 Lbs Weight Capacity Office Chair
Flash Furniture's Hercules Fabric Office Chair

A fairly well known name in the Big & Tall community, Flash Furniture offer a budget minded 400 pound rating chair when compared to the above 2 chairs. When it comes to fabric material office chairs, this Hercules chair is our top recommendation. While Flash Furniture do offer a Eco Leather Version of this chair, I always prefer the fabric model, but that's just a personal preference.
I feel the Hercules office chair is a heavy duty beast built to last and handle high weight capacities. The structure of the base and frame display immediate signs to me of high quality materials. The kind of impression you want when you're looking to buy a computer chair up to 400 lbs right. The caster wheels look big like they could handle the larger weights quite nicely too.
Moving up to padding and comfort, I don't think you can buy a better chair for this price with this much lumbar support and padding. It's an incredible comfort level you have to endure to believe. If you have suffered from lower back pain from other office chairs, then I think you will love the support given to the back region. Give it a couple days and you may be amazed.
A pro and a con in one are the adjustable arms. Much like the chair I'm sitting in right now, the Hercules heavy duty chair has adjustable arms. Both upwards for tall people and outwards for us extra wide folks. This is a great feature and one I'm always paying attention too in other chairs. However the arms are notorious for wiggling after a couple days/weeks. No matter how much you tighten them they get a slight wiggle. I'm sure a washer or home hardware store could easily fix this problem, but it's really not an issue for me as my arms are 90% of the time placed firmly on my computer desk.
Overall I believe the Hercules office chair to be a great buy for anyone up to 400 lbs. If you can accept a slight wiggle in the arms, I really don't think you will be disappointed. For the price you're getting one super heavy duty chair that has the potential to NOT break on you. I think it kinda resemble a tank. Do note that fabric material attracts animal hair, so if you're a pet owner like myself. I advise keeping a lint roller/pet hair roller at your workstation.
Hurcules Fabric 400 Lb Capacity
Save